Last Updated on November 30, 2022 by Ellen Christian
Wondering how to clean a LG All In One Washing Machine (front load)? Check out these tips to clean your front load washer from LG.
Posts may be sponsored. This post contains affiliate links, which means I will make a commission at no extra cost to you should you click through and make a purchase. As an Amazon Associate I earn from qualifying purchases.
How to Clean a Front Loading Washing Machine LG All In One
We have a very small house with a very small bathroom. The bathroom happens to be where our laundry area is. Because the bathroom is small, we only have room for a washing machine and not a dryer.
While I do hang laundry in front of the woodstove and outside on the line on nice days, there are just some days you need to have a dryer. The L G front load washing machine with dryer is the answer.
We considered getting a stacking washer and dryer so we could fit two in one space but we have nowhere for the dryer to vent easily and didn't want to spend lots of money on a remodel on the bathroom.
Our solution was the LG All In One Front Loading Washing Machine. If you're not familiar with it, it does the washing and the drying in one unit and needs no venting.
This was not only my first front loading washing machine but my first all in one washing machine. To keep it running efficiently, the first thing I needed to learn was how to clean a front loading washing machine.
Front loading washing machines use much less water than traditional washing machines. In a front loader, the bottom part of the drum is filled with water and the washing machine uses gravity and the tub's rotation to move the clothes through the water.
The clothes don't need to be surrounded by water all the time which is why they can use less water. Because it uses less water, you also need to use less laundry detergent.
How to get your LG washing machine tub clean
Keeping your front-loading washing machine clean is important to stop the growth of mold and mildew. Learning how to clean a front loading washing machine is as simple as following these steps.
Always use a liquid detergent that's made from a high-efficiency washing machine. It will say HE on the front. I like this one.
These detergents produce fewer suds and over time that is very important to keep your front-loading washing machine running well. Too many suds can leave a film on the drum and hoses which is a hot spot for mold and mildew to grow.
Use less fabric softener (or none at all) and bleach for the same reasons. Less water means that you need much less fabric softener and bleach with front load washers.
How to clean your washing machine with vinegar
Clean out the rubber seal near the door regularly. To keep your front-loading washing machine from leaking, it must be able to form a tight seal around the door.
Clean both the rubber gasket and the area on the door that it connects with. Just use a bit of vinegar and water on a damp washcloth to keep it clean.
A Q-tip will let you get into small areas. You can also wipe down the inside of the washer drum with vinegar and water to help keep down odors.
Once a month, you can run a mixture of baking soda and vinegar through a wash cycle. Put the vinegar in the laundry detergent dispenser and put a cup of baking soda in the wash drum.
Use the hottest cycle you have and follow up with an extra rinse. If you have a mildew smell in the washer drum, you can substitute bleach for the baking soda and vinegar and put it in the laundry detergent dispenser. Do NOT mix bleach and vinegar.
How to clean the LG All in One Washing Machine drain pump filter
Clean the drain pump filter out once a month. Removing any hair or lint from the filter will allow water to be removed more efficiently from the washing machine which will mean your clothes dry better.
Put down a towel first because no matter how much I drain it using the little tube, there is always water left over that makes a mess.
Remember, you don't need to fill the liquid detergent cup all the way to the top. The normal setting is fine.
You can also use detergent pods, but put them in the washer tub itself.
If you add too much detergent, you may need to clean it more frequently.
Cleaning the dispensers
Remove the laundry detergent dispenser and clean thoroughly. We have hard water and ours is discolored because of build-up.
You can soak in bleach and scrub with a Magic Eraser to help clean this. On the LG All in one, press the button on the dispenser and remove the entire tray.
Take out the individual dispensers and clean them and then put them back.
How to clean a stackable washer
The process is the same for any type of front load washing machine. If you have a stackable version, you may need a step stool to reach deep inside.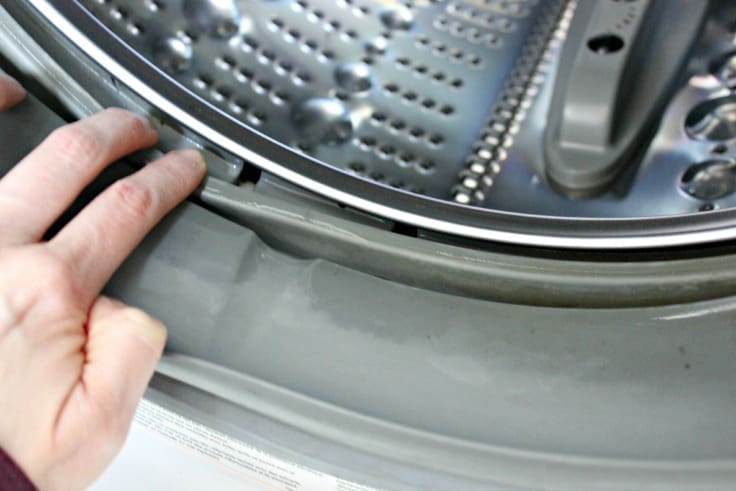 How to remove lint
The LG All in One has an area around the washing machine drum that collects lint, This must be cleaned out regularly or your clothes don't come clean or dry as well.
Remove any large pieces by hand and then follow with a damp cloth or toothbrush dipped in vinegar and water to remove any residue.
Taking just a few minutes a week to really clean your front-loading washing machine well will help keep it in good condition for a long time. I know they make expensive washing machine cleaners, but you really don't need more than bleach or vinegar and water to do a good job.
You may also like to learn about natural laundry boosters and how to organize laundry room chaos. Finally, check out laundry odor removal made simple.
This is an older model washing machine. So, you may not find it on the market today. Instead, you might want to consider:
LG Double Washing Machine
LG Dual Washer Dryer
LG Washer
Learn more about how to add essential oils to laundry.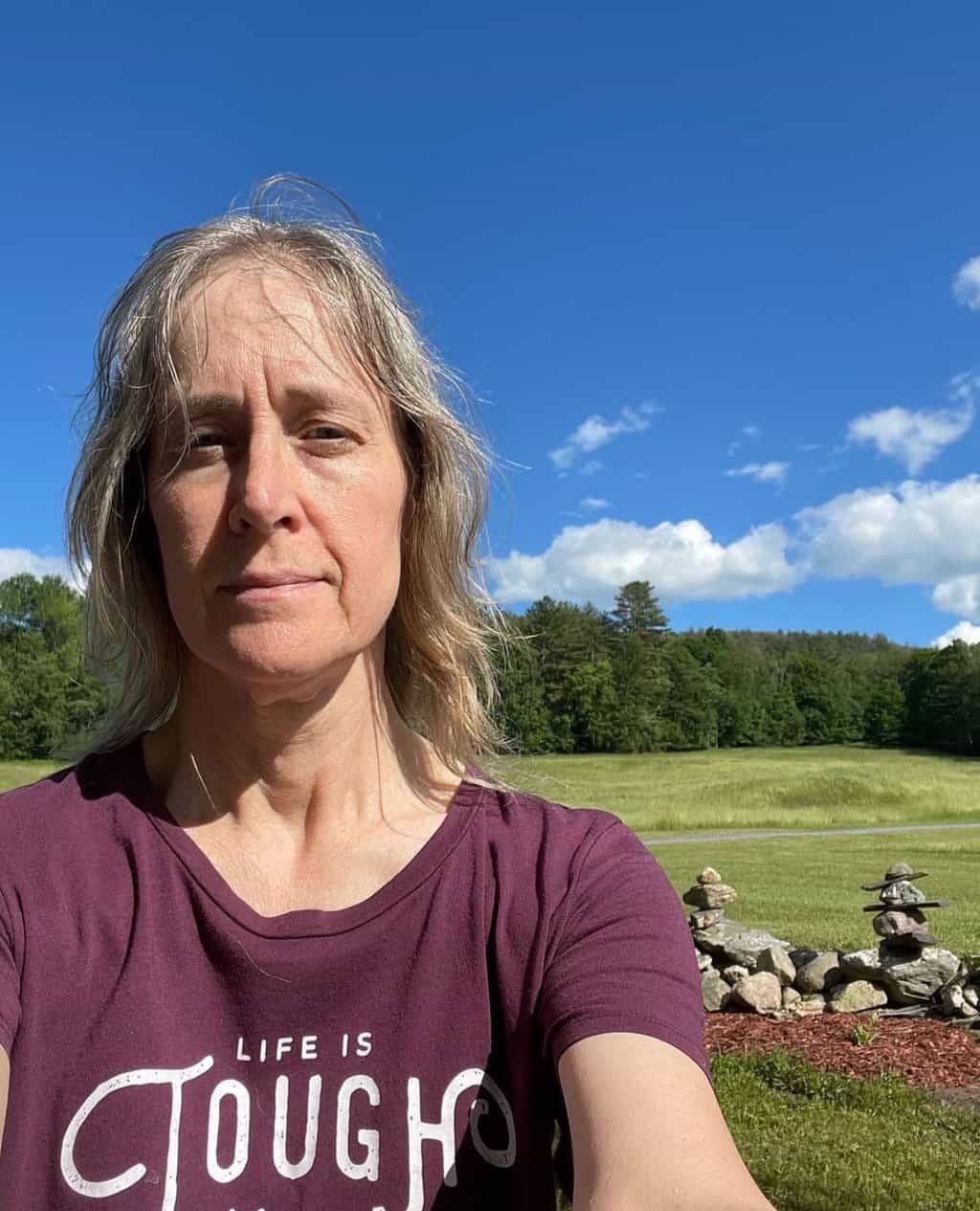 Ellen is a busy mom of a 24-year-old son and 29-year-old daughter. She owns six blogs and is addicted to social media. She believes that it doesn't have to be difficult to lead a healthy life. She shares simple healthy living tips to show busy women how to lead fulfilling lives. If you'd like to work together, email info@confessionsofanover-workedmom.com to chat.