Last Updated on June 28, 2022 by Ellen Christian
Learning how to disinfect a refrigerator naturally is not only better for the environment, it is much cheaper than relying on chemical-based cleaners.
Posts may be sponsored. This post contains affiliate links, which means I will make a commission at no extra cost to you should you click through and make a purchase. As an Amazon Associate I earn from qualifying purchases.
The thought of spraying chemical-based cleaners all over the surface that I store my food in isn't one I like. After all, I set things like fruits and vegetables directly on the refrigerator shelf.
If I have sprayed the shelf with a cleaning solution loaded with chemicals, that means the chemicals are all over my food. Thankfully, I learned how to clean out a refrigerator naturally.
How to Disinfect a Refrigerator Naturally
The best time to disinfect the refrigerator is the day before you go grocery shopping. Take out everything that is no longer good like leftovers you were going to use but never did. Check the expiration dates on all of your sauces and condiments.
Make sure you wash out and recycle as many empty containers as you can. While you're doing this, make a note of anything you need to buy at the grocery store.
If you can get to the back of the refrigerator, unplug it, and then vacuum out the coils on the back. This will help it run more efficiently and save you money. If your refrigerator is stuck in a tiny hole in the kitchen like mine is, you will have to skip this step.
Take everything out of the refrigerator.
How do I make my fridge bacteria free?
There are several different essential oils that are antibacterial. I often use tea tree oil, peppermint, lemongrass, and orange. You can use a combination of these if you prefer.
How do I disinfect my refrigerator?
When it comes to how to disinfect a refrigerator naturally, I prefer baking soda. But, you can also use table salt for a scrub if you prefer. Eucalyptus and thyme are also good options.
Mix 2 cups of hot water and 2 tablespoons of baking soda in a bucket. Using a sponge, wipe down the sides and each shelf moving from the top to the bottom.
If you have food that is stuck on, make a paste with baking soda and a tiny bit of water and use a non-scratch sponge to scrub lightly until it comes off.
Dry off the shelves when they are clean.
Wipe down the bottoms of the bottles and containers before you put them back. This saves tons of time next time.
Take what's left of the box of baking soda and put it in the refrigerator with today's date. Replace in one month when you do this again. This helps keep the odors out of the refrigerator.
Head over to this post if you'd like to learn more about how I clean naturally.
How to get rid of a smell in the refrigerator
Here's how to get rid of the smell in the refrigerator. If you're wondering how to disinfect a refrigerator naturally, this will be part of the process.
1. Pour one gallon of water into the container and add 2 tablespoons of salt. Put it all in a pot, bring to boil, then cover with a lid and let it stand for 2 hours. This water you'll use to rinse the refrigerator, but do not drink it.
2. Pour 1 cup of vinegar into a bowl and add 3 tablespoons of baking soda. Mix well, then put 8 drops of tea tree oil and/or 3 teaspoons of lemon juice into the mixture. The smell should go away in several hours but if it doesn't, leave the bowl inside for a few more hours.
3. Alternatively, you can cook a mixture of vinegar and water with 2 tablespoons of salt (not soda) in a large pan over low heat. Bring to boil, then cover the pot with a lid and let it stand overnight. The next day, leave the bowl in your refrigerator for 3-4 hours.
3. When all of these methods have been exhausted, you can open up the fridge and spray it with tea tree essential oil or citrus oil (or any other natural cleaner). Leave an opened bottle inside overnight. This way the smell will get out of the fridge.
4. Finally, if you want your refrigerator to smell nice for a longer time, spray it with 10-15 drops of citrus essential oil when taking out fresh food or preparing new food in it (or right after cleaning). Citrus fruits like lemon and orange have natural antiseptic properties which kill bacteria and other microorganisms.
More natural articles
Now that you know how to disinfect a refrigerator naturally, you may want to read these articles.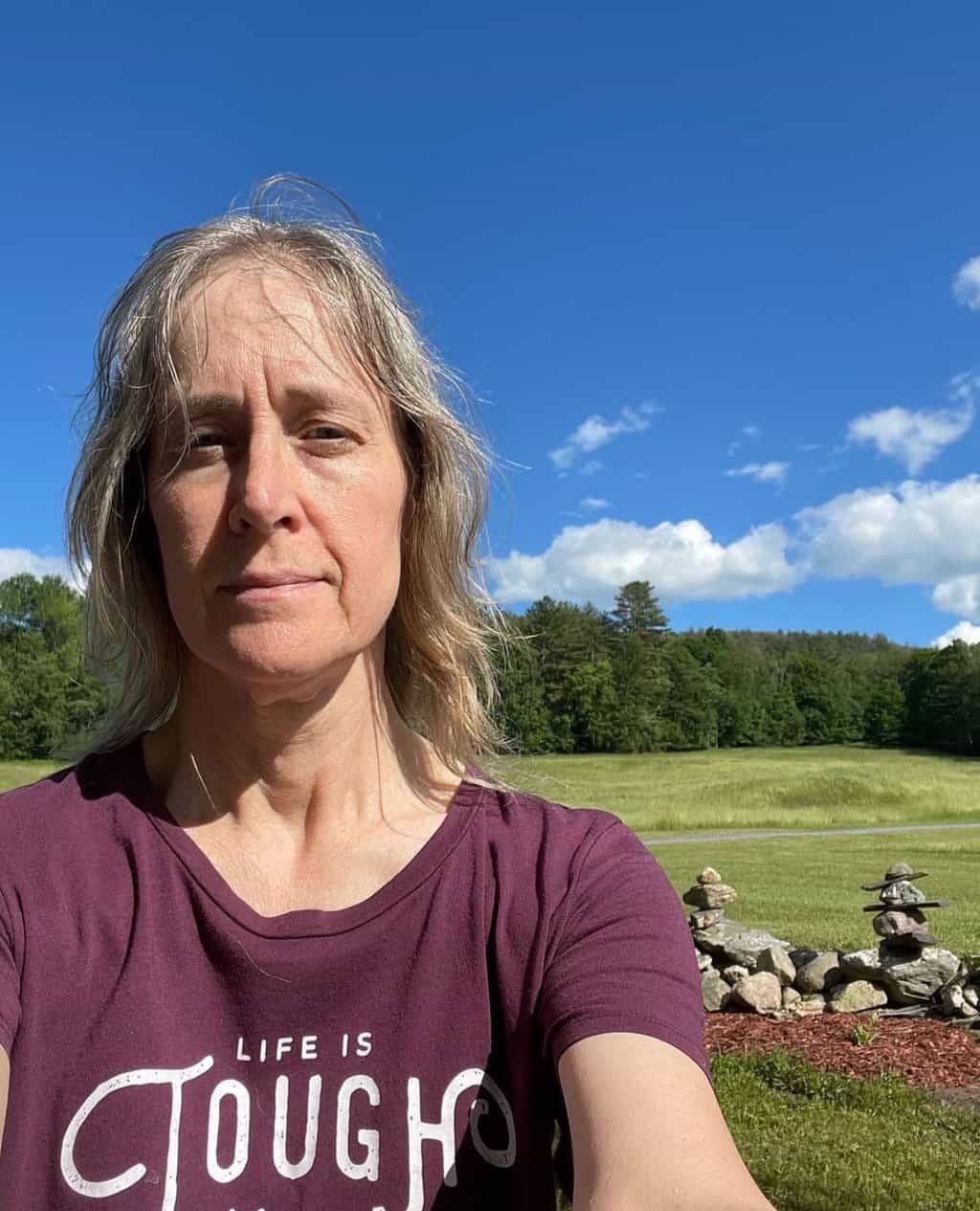 Ellen is a busy mom of a 24-year-old son and 29-year-old daughter. She owns six blogs and is addicted to social media. She believes that it doesn't have to be difficult to lead a healthy life. She shares simple healthy living tips to show busy women how to lead fulfilling lives. If you'd like to work together, email info@confessionsofanover-workedmom.com to chat.