Last Updated on September 5, 2020 by Ellen Christian
This post is sponsored by Nature's Way® Joint Movement Glucosamine®. I have been compensated for this post but all opinions are my own.
Posts may be sponsored. This post contains affiliate links, which means I will make a commission at no extra cost to you should you click through and make a purchase. As an Amazon Associate I earn from qualifying purchases.
There's a frost warning for our area overnight tonight and that makes me feel like staying in bed tomorrow morning. I knew winter would happen eventually, but I'm not ready for it. The thought of going outside for my morning walk when it's cold doesn't thrill me. But, I know I need to keep active all year, even when it's cold out. My daily walks help me unwind and are an easy way for me to stay active. They're as important to a healthy lifestyle as eating right and remembering to take Vitamin C and glucosamine. Vitamin C helps boost my immune system during the cold winter months while Wellesse® Joint Movement Glucosamine® from Nature's Way® supports my active lifestyle. *
5 Easy Tips for Staying Active When It's Cold Outside
As much as I'd like to fast forward through the cold weather, I know it's not going to happen. The leaves will fall from the trees. The snow and ice will cover the grass. I've resigned myself to it happening this year just like it does every year. I can feel the urge to hibernate already. I can't stop winter from coming, but I can take a few simple steps to make staying active easier.
Dress For It
If you struggle with exercising when the weather is bad, make sure you dress for it. You may think that it's nice outside when you're standing in the sun, but what about when you step into the shade or it starts to get windy? Be prepared for colder weather before you go outside. Remember to take along gloves and a hat; even if you just slip them in your pocket in case you need them. Dress in layers so that if you're too cold, you can add a layer or if it's too warm you can take a layer off. My road is mostly wooded so even when the thermometer says it's warm, it can feel colder in the shade. I'd rather have my gloves and not need them, than be cold while I'm walking. If it's truly too cold or the weather is too bad to go outside, try an inside activity like a stationary bike or a yoga routine instead. Yoga is great exercise and it helps with stress too.
Change the Time
Is your excuse that there is never enough time to exercise? Change when you walk. Over the summer, I took my walks early in the morning before I started working. Every day, at 7 AM, you'd find me walking up and down the road admiring the scenery before anyone else was out. I cleared my mind and decided what was important for me to accomplish each day. Now that the temperatures are cold first thing in the morning, I've switched my walking time to the afternoon. I use this time as a time to get rid of stress and unwind since I get most of my work done during the morning hours. If you have a day job, you may want to take your walk during your lunch hour. It doesn't have to be a long power walk. I generally limit mine to about thirty minutes during the week. On the weekend, if the weather is nice, I may walk for an hour if I have the time. I aim for a leisurely walk up the road taking time to smell the flowers and listen to the brook rather than worrying about time and distance. It's meant to relax me, not be a strenuous workout.
Go With a Friend
Do you struggle with motivation? Walk with a friend. If you tend to put off exercising because you've lost motivation, try getting a friend to go along with you. Set a specific time each day to meet, and you'll be less likely to cancel. You can help each other stay motivated and on task. When I'm feeling unmotivated, I grab one of the kids, and we go out and play Pokémon Go. It's amazing what capturing a few Pokémon can do to your mood. The kids aren't as into healthy living as I am but they do love video games. Walking with them gets us both active and it counts as bonding time! Reward yourselves with a (non-food) reward if you stick with walking all week. Treat yourself to a mani/pedi or enjoy an afternoon out at the spa. You deserve it.
Bring Warmth
Do you hibernate when it's cold? Bring along some heat. If you're one of those people that are cold no matter what, bring along some extra warmth while you exercise. While I haven't tried them, I've known people who swear by heated socks when they're hiking in the woods. I get my husband hand warmers for Christmas every year. You just open the packet and put them in your pocket, and they warm your hands instantly. Need a low tech solution? Try bringing along a cup of herbal tea in a travel mug on your walk. My go to tea when I walk is chamomile and peppermint. The chamomile helps with stress relief and the peppermint invigorates you without caffeine.
Be Prepared
Is it hard to make healthy choices? Be prepared. Your body works better when you take care of it. That means eating properly, getting enough sleep and remembering to take supplements like Nature's Way® Joint Movement Glucosamine®. I try to eat healthy, but I know I'm probably not getting all of the nutrients I need from food alone. Adding in vitamins and supplement is an easy way to make sure my body gets what I need, even when I don't make the best food choices. As someone who wears many different hats, glucosamine gives me that extra boost so I can keep going when life gets busy. You can learn more about why I'm taking it in my last post.
It can be a struggle remembering to take your supplements each day. I'm a creature of habit, and I find I remember best if I follow the same daily routine. I keep my supplements next to the coffee maker so I see them each morning. I always remember to take them with breakfast. I set a reminder on my iPhone just like I do for my daily walk. It's easier to remember that way in case I get busy.
Do you have any tips for staying active when it's cold outside that I've missed?
*These statements have not been evaluated by the Food & Drug Administration. This product is not intended to diagnose, treat, cure or prevent any disease.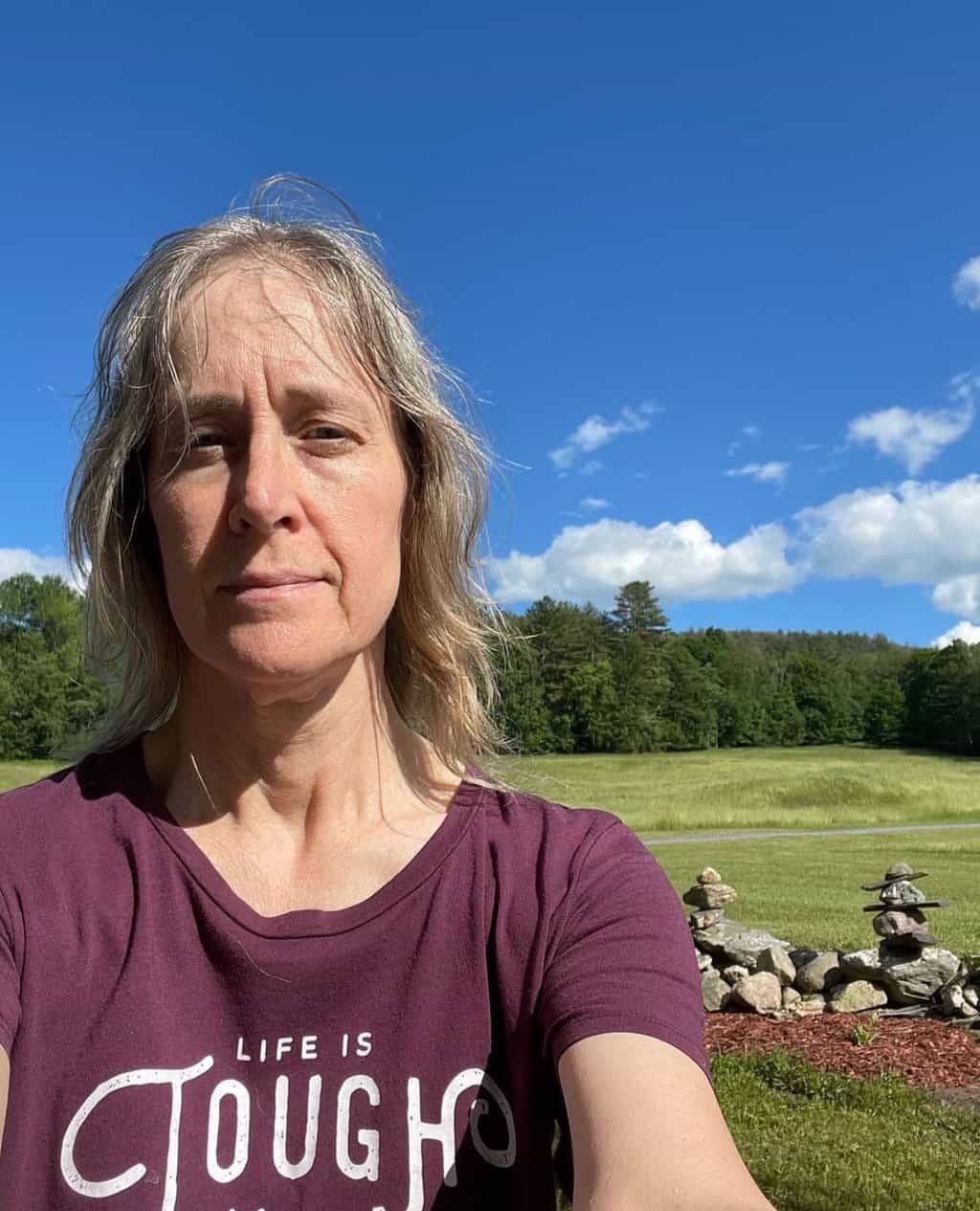 Ellen is a busy mom of a 24-year-old son and 29-year-old daughter. She owns six blogs and is addicted to social media. She believes that it doesn't have to be difficult to lead a healthy life. She shares simple healthy living tips to show busy women how to lead fulfilling lives. If you'd like to work together, email info@confessionsofanover-workedmom.com to chat.