Last Updated on May 15, 2022 by Ellen Christian
In the winter, it's hard to keep your yard looking great. Check out these winter flowering plants and shrubs to improve your curb appeal.
Posts may be sponsored. This post contains affiliate links, which means I will make a commission at no extra cost to you should you click through and make a purchase. As an Amazon Associate I earn from qualifying purchases.
By adding a few flowering plants and shrubs you can extend your landscape season by several months. You'll have color in the garden when everything else is dormant or dead. Check out these winter blooming shrubs and plants to enjoy from winter to early spring.
Winter Flowering Plants and Shrubs
I've put together a list of some of my favorite winter flowering plants and shrubs for you to check out here. You can plant several to enjoy color all winter long even while Mother Nature is being her most difficult.
Winter flowers or shrubs can create beautiful textures if planted on a large scale. They're very important for the garden and should be taken care of. Some decorate themselves with colorful berries. It's much nicer to have bright color in your garden than bare branches of deciduous trees.
Some of these bloom in early winter and others in early spring. Some have fragrant flowers and others are simply known for being a colorful accent against a winter landscape. Check the USDA hardiness information to find out the best option for your winter garden.
What shrubs bloom in early winter or spring?
Winter honeysuckle, winter jasmine, snowberry, coralberry, and wintersweet are some of the plants you can add to your landscape.
Winter honeysuckle blooms from December through February. It has bright red fruit which persists until spring. Not only is it one of the earliest flowering shrubs but also one of the last to remain in flower.
Winter jasmine blooms from late January through April. It has yellowish-green flowers and silvery lance-shaped foliage. It makes a great ground cover for slopes, borders, medians and can even be used as a vine on walls or structures. This is one of the most popular flowering shrubs, especially in the mild climates of the south.
Snowberry has striking, showy white flowers in November and December. The berries are seen well into autumn. It's a great plant for winter interest when many other shrubs are dormant or nonexistent.
Coralberry blooms from January to March with bright red berries that are attractive to birds throughout the colder months. This low-maintenance shrub is native to the U.S and is perfect for mid winter color.
Wintersweet blooms from January through March. The flowers are off-white or pale yellow and open just after the leaves emerge. This late-blooming shrub can be grown as a hedge for screens, borders, etc.

Deciduous winter flowering shrubs
Paperbush
Flowering Quince
Winter Jasmine
Wintersweet
Winter honeysuckle
Evergreen winter flowering shrubs
If you want to add an evergreen shrub to your rock gardens, check out these hardy plants.
False hollies or tea olive
Mahonia
Sweet box
Daphne
Fragrant winter flowering shrubs for beauty and bees
Cold Hardy Camellias
The beauty of spectacular blossoming camellia is unparalleled. It begins blooming in the fall and lasts until spring. Camellias were no more cold tolerant than before, but with the new hybrid varieties, they can tolerate low temperatures with success. These showy plants with red flowers may not work well for the coldest climates. Try this if you are in mild climates zone 6-9.
Winter Daphne
The late spring and late winter blooms evoke an intoxicating scent in the air. Small tubular-shaped clusters of flower decorations adorn the light green leaves. When you want fragrance you can notice, place it around a wall, patio or deck. It can be up to four feet tall making it an ideal option for container growers. They smell so good when they start blooming.
Siberian Dogwood
The amazing shrub for visual interest looks impressive when it loses its leaves in the autumn. And before it falls I'm amazed by its gleaming autumn shade. The bare stems turn to bright crimson color when the cold weather arrives the leaves seem pretty against a background of snow.
Arrowwood 'Dawn'
The clusters of pink blossoms on this medium sized shrub are fragrant and long-lasting. They emerge during the winter and early spring. Blue and black berries follow the flowers.
Ideal as a border to gardens and pathways because of low maintenance and a compact and easily planted size. I love the intense fragrance of these flowers.
Mahonia Winter Sun
The bright yellow flowers of this evergreen shrub appear very cheerful in dull, dead winters. For an impressive outcome place these plants along winter garden borders for visitors. This plant does best in partial shade or even full shade. It will not tolerate full sun.
Higan Cherry (Winter Flowering Cherry)
This brightly colored small shrub can be sized from six to 9 meters (20-30ft. ) tall. It flowers depending upon the climate. As time goes on the flowers change from deep pink to pale pink. This hardy cherry is better at resisting cold and heat compared to other cherry trees. This is one of my favorite winter flowering plants and shrubs.

Witch Hazel
The yellow flowers on this large shrub grow in colder temperatures and spread an enticing fragrance in the garden. Bizzare thin ribbons shape makes flowers stand out. And, it has many medicinal uses. This grows well in USDA hardiness zone 3 through 9. Find it here.
Winterberry
Round clusters of bright red berries with glossy green foliage are eye-catchy. The red berries would not exist unless the male and female plants were situated near the shrub.
This shrub produces red berries if there are both female and male plants present in the area at the time of bloom. If you want bright red color, this is the plant for you.
Wintersweet
The stems become leafless in winters but have bell like flowers with yellow petals. The tree is called Chimonanthus praecox because of the aromatic sweetness of the blooms when they are dormant in the winter season and early spring. Find it here.
Clematis Jingle Bells
This is an evergreen vine plant blooming in autumn and spring. The recurved white to yellow leaves with freckled red of nodding blooms steal the show in colder seasons. Fluffy seedheads follow on from flowers that complement the dark green foliage.
Honeysuckle 'Winter Beauty'
Intensely fragranced flowers that appear in spring are mood enhancers due to their sweet aroma. You will also provide nectar to the BumbleBees by planting these plants. Cream white leaves are joined by exotic redberries for a festive look. Expect them to bloom late winter to early spring.
Lenten roses
These look like roses but their petals are short. Before the flowers fade they develop into intriguing purple berries that attract birds and deer. They bloom during the winter season and look gorgeous in rock gardens. USDA zones 4-9. Plant them today.
Sweet Box
The compact structure and low height of 4-5 feet of this shrub will be good for winter containers. The plant also resists deer, rabbits, foxes, and snakes. The flowers in winter are sweetly fragrant and make the flowers nostalgic when they bloom.
Winter Jasmine
Masses of bright yellow flowers appear on slender branches from late winter until early spring. Generally, it grows as a wall shrub. Because it makes a lovely cut-flower you can accentuate indoors with it as well enhancing the outdoors with cut flowers.
Sky Pencil Holly
Use it in a large planting, hedges, or grow it in series in containers for the entrance. Use this as a sentry to your garden or in containers at your entrance. The small purple berries make this a striking evergreen shrub. Get one here.

Shrubs with bright yellow flowers
These flowers stand out in winter when there is not much color to appreciate. Winter jasmine, winter honeysuckle, and clematis 'Jingle Bells' are all different tones of yellow. Plus, they provide nectar to bumblebees during their pollination season. So why don't you add these spectacular shrubs to your garden?
Other plants with yellow flowers include winter aconite and daffodils. Be sure to plant flower bulbs by late fall.
4 early spring flowering shrubs
Check the USDA zones to find out what the best choice is to survive winters in your area.
1. Siberian Dogwood 'Snow Flurry'
2. Arrowwood
3. Mahonia japonica 'Winter Sun'
4. Higan Cherry (Winter Flowering Variety)

Other accents for your garden
Here are a few more things you can add to your shade garden. Look for a late winter-blooming variety of flowers to add more color.
Birdbath
Birdhouses
Garden flags
Colorful stone planters
Sundials
Flowers (Christmas rose, spring snowflake)
More gardening articles
If you enjoyed this article about winter flowering plants, you may enjoy these.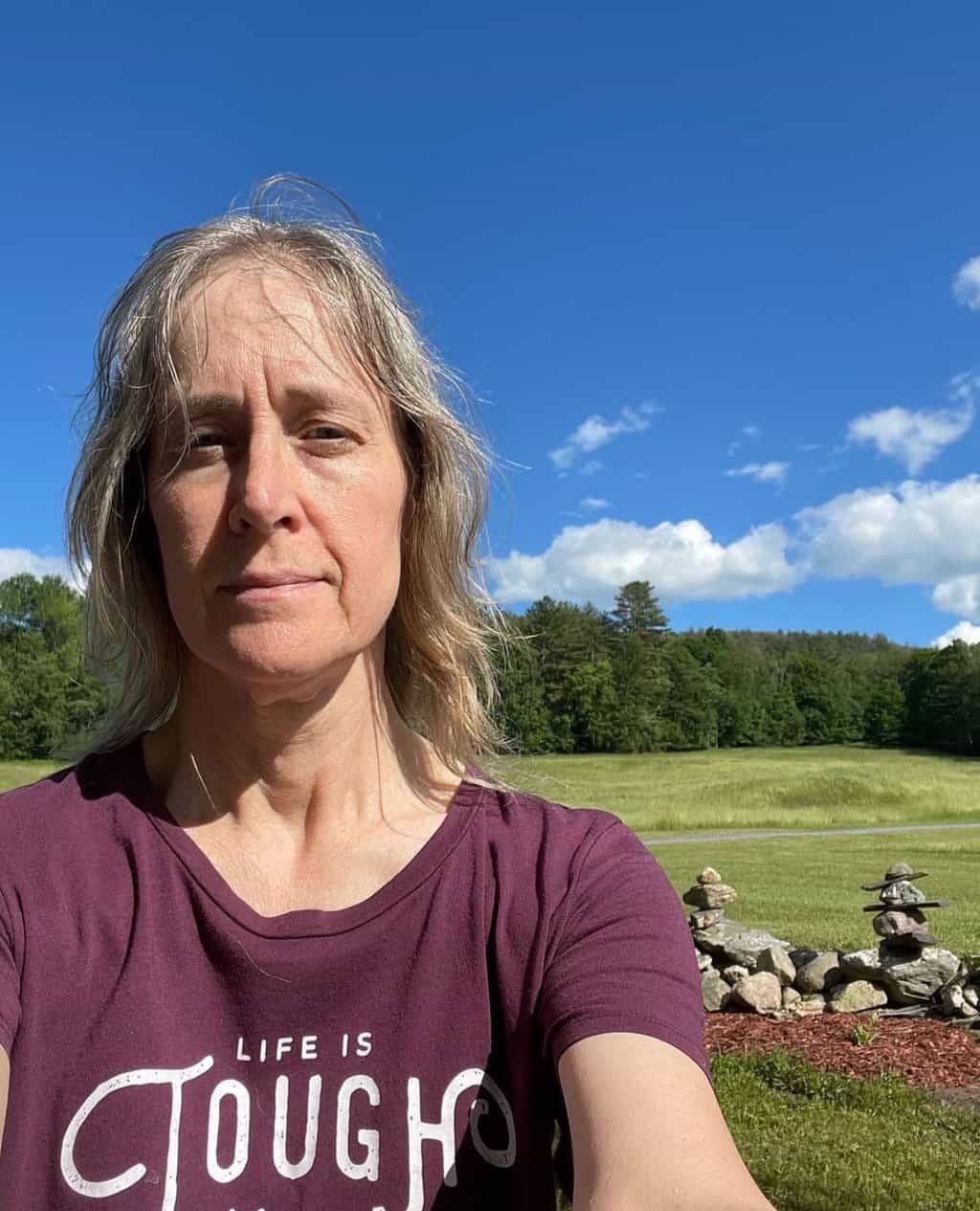 Ellen is a busy mom of a 24-year-old son and 29-year-old daughter. She owns six blogs and is addicted to social media. She believes that it doesn't have to be difficult to lead a healthy life. She shares simple healthy living tips to show busy women how to lead fulfilling lives. If you'd like to work together, email info@confessionsofanover-workedmom.com to chat.