I admit that when it comes to Paleo baked goods and products made with flour, I am a total novice.  While I have done a bit of gluten free cooking for my daughter, I have always started with a flour blend purchased at the food coop.  The flour blend almost always has rice flour, soy flour or another non-Paleo flour.  The only Paleo approved flours that I'm aware of are almond flour and coconut flour.  Since Marty is allergic to coconut, my choice is almond flour. That puts serious limits on what I can make.
I received a shipment of Meyer lemons from Dandy Fresh for the purposes of this post.
Paleo Banana Pancakes
Since our grocery store doesn't carry almond flour, I needed to make my own. I used a 10 ounce package of slivered almonds and after processing them in the food processor for about 30 seconds, I ended up with about two cups of almond meal. That is enough for two batches of these Paleo banana pancakes. When you are making your own almond meal or flour, you want to be very certain that you do not process the almonds too much. If you process them too much, you will end up with almond butter and that will not work in this recipe.  I stop a few times while processing to check the progress.
Since I was sent Meyer lemons for a feature on my site, I thought that I would try a Meyer Lemon Butter to top the pancakes.  Meyer Lemon butter is a nice contrast to the coconut and banana in these pancakes. You can top it with fruit to stay more Paleo or if you allow yourself sweetener, use maple syrup.  We used the maple syrup from the trees in our backyard.
Ingredients
2 small bananas
3 eggs
3/4 cup almond meal or almond flour
1/2 cup shredded coconut, unsweetened
1/3 tsp baking powder
1/2 tbsp Meyer lemon zest
ghee for frying
maple syrup
MEYER LEMON BUTTER
1/2 tbsp Meyer lemon zest
1/4 cup softened butter
Juice of half a Meyer lemon
Instructions
Mix the eggs and bananas in your food processor until they are light and fluffy.
Add the coconut, almond meal, lemon zest and baking powder and stir until mixed.
Heat the ghee or coconut oil in a pan.
Pour batter by tablespoon into a hot frying pan. I used about 2 tablespoons per pancake.
Cook them over low heat, turning VERY carefully when you see bubbles form on top of the pancake.
TO MAKE THE MEYER LEMON BUTTER
Mix the softened butter, Meyer Lemon juice to taste and the Meyer Lemon zest.
Add a dollop of Meyer Lemon butter to the top with or without maple syrup
7.6.5
870
https://confessionsofanover-workedmom.com/paleo-banana-pancakes-meyer-lemon-butter/
This recipe makes about ten pancakes that are about 3 1/2 inches in diameter. This fed myself and my son well with a side of ham.  If you are feeding more people, you can double the recipe.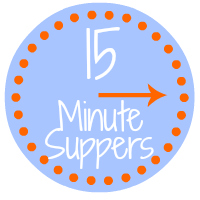 This week we are sharing 15 Minute recipes to get you through your New Year's Eve parties. I think you will love these awesome recipes that are party worthy, but that will keep you hangin' with your guests instead of being a slave in the kitchen! Happy New Year!
Follow 15 Minute Suppers on Facebook | Twitter | Instagram | Pinterest
and look for the #15MinuteSuppers hashtag too!
15 Minute Appetizers
BBQ Bacon Meatball Skewers from Around My Family Table
Easy Party Appetizer – Lit'l Sweet BBQ Little Smokies from Just 2 Sisters
Brussel Sprouts & Hams from Food 4 Little Ones
15 Minute Snacking
Ooey Gooey Holiday Chex Mix from Better in Bulk
15 Minute Breakfast
Paleo Banana Pancakes with Meyer Lemon Butter from Confessions of an Overworked Mom
If you are a blogger and you'd like more info, please check out the 15 Minute Suppers website or ask to join the Facebook group to participate on Fridays…we'd love to have you join us.
Related articles