Last Updated on July 1, 2023 by Ellen Christian
If you're looking for jewelry for anxiety, you may want to consider a calming necklace. Learn more about the mindful breathing necklace I'm using for anxiety relief.
Posts may be sponsored. This post contains affiliate links, which means I will make a commission at no extra cost to you should you click through and make a purchase. As an Amazon Associate I earn from qualifying purchases.
Jewelry for Anxiety
It's difficult to completely avoid stressful situations whether they come from your daily life or a temporary struggle. I've been using spinner rings and this anxiety necklace to help reduce anxiety and feel less anxious.
Check out the anxiety jewelry from Moksha I've been using to manage stress and focus. Find out more here.
What is a mindful breathing necklace?
A mindful breathing necklace is a simple tool that helps you focus on your breathing in times of stress. Whenever I feel overwhelmed, I use this necklace to help me calm down and regain my composure.
You may also have heard it referred to as an anxiety necklace or calming necklace. It can help you feel calm by focusing on deep breathing.
How does anxiety jewelry work?
Anxiety jewelry is often used in reducing stress. It encourages you to focus on another task like breathing to regain calm in stressful situations.
An anxiety ring works in much the same way. It helps you manage stress by fidgeting or spinning the ring to reduce anxiety. This can help you relax and improve your mood.
I find that it's a useful tool that helps me lessen anxiety during the day. It helps me to relax before bed and stop my thoughts from racing during times of stress.
Does anti anxiety jewelry work?
Yes, anti-anxiety jewelry is a great way to help reduce stress and anxiety. It can be used as a tool for mindful breathing, fidgeting or simply focusing on an object.
Using calming jewelry such as this necklace can also help you find moments of peace throughout the day when things seem overwhelming.
Anxiety jewelry is a simple yet effective way to help manage stress. It can be a great option for those looking for an alternative to medication, therapy, or other treatments. With regular use, a stress relief necklace can help you cope with anxiety and find moments of peace when you're stressed.
The mindful breathing necklace I'm using is a great tool that helps me stay focused and relaxed during challenging times. The Moksha App has over 1000 breathing exercises to meet different needs.
Beam stress relief necklace
The Beam anxiety relief necklace is a mindful breathing necklace that is optimized to help deep breathing and reduce anxiety and stress.
The pendant is a small tube with a split path airflow design. It helps with belly breathing, guided breathing meditation, and panic attack breathing.
And, it comes with a special calming necklace app to help you with relaxation when you're stressed.
I've been using the anxiety jewelry from Moksha for a while to manage stress and focus. Find out more here.
What makes the Beam mindful breathing necklace special?
This anxiety necklace has a special split breathing design. The pendant helps slow your breath so that it encourages relaxation. Unlike a random homemade tube, this is designed to slow your breathing to foster and encourage anxiety relief.
When I feel that I need stress relief, I use this mindful breathing necklace for one to two minutes to calm my mind and manage stress. Using this anxiety jewelry along with their helpful app has made a big difference for me.
Tips for using the Beam anxiety necklace
If you want to use the Beam mindful breathing necklace, here are a few things to keep in mind:
Always make sure you're comfortable before using the necklace.
Keep your eyes closed and focus on your breathing while using it.
Make sure you take slow, deep breaths while focusing on the physical sensations of air moving through the tube.
Try to remain still and relax your body when using the necklace.
Use it for a few minutes each day to help reduce stress and anxiety.
You can use this anxiety necklace as part of your yoga or meditation routine. Just add your favorite essential oils to your diffuser and work on the techniques in the app.
Or, the Beam necklaces are stylish enough to wear as everyday jewelry. No one will know that you are using it for anxiety relief unless you tell them.
The Beam anxiety necklace is available in Shiny Silver, Rose Gold, Space Grey, and Gold. They also offer anxiety rings also known as spinner rings that you can wear along with this necklace.
More tips for anxiety relief
In addition to this anxiety necklace, there are other ways you can find stress relief and improve your mental health.
If you're looking for more ways to reduce stress and anxiety, here are a few ideas:
Practice mindfulness – be present in the moment and observe your thoughts without getting pulled into them.
Talk to someone – don't keep your feelings bottled up; talking with a professional can help you manage your emotions.
Exercise regularly – physical activity can help reduce stress levels and improve your mental health. Walking works great for me.
Get enough sleep – lack of sleep can lead to increased stress levels; aim for a healthy amount of restful sleep each night.
Take some time off – take breaks from work and activities that are causing you stress. Go for a walk, read a book, or call a friend when you need to take a break.
Use essential oils – certain scents can help calm the mind and reduce stress levels. Lavender oil is especially known for its calming effects.
Try art therapy – drawing, painting or even coloring can help you creatively express your emotions. Or, consider journal writing.
Meditate – guided meditation can help you focus on something else for a while like colorful crystals or a flickering candle.
Conclusion
Anxiety jewelry can be a great way to manage stress and find moments of peace in challenging times. The Beam mindful breathing necklace is an effective tool that helps with deep breathing by slowing breathing as you inhale and exhale through the specially designed pendant.
I've been using the anxiety jewelry from Moksha for a while to manage stress and focus. Find out more here.
Related Reading
Sensory strips to manage anxiety
Ways minimalism helps with stress
Benefits of doodling for stress relief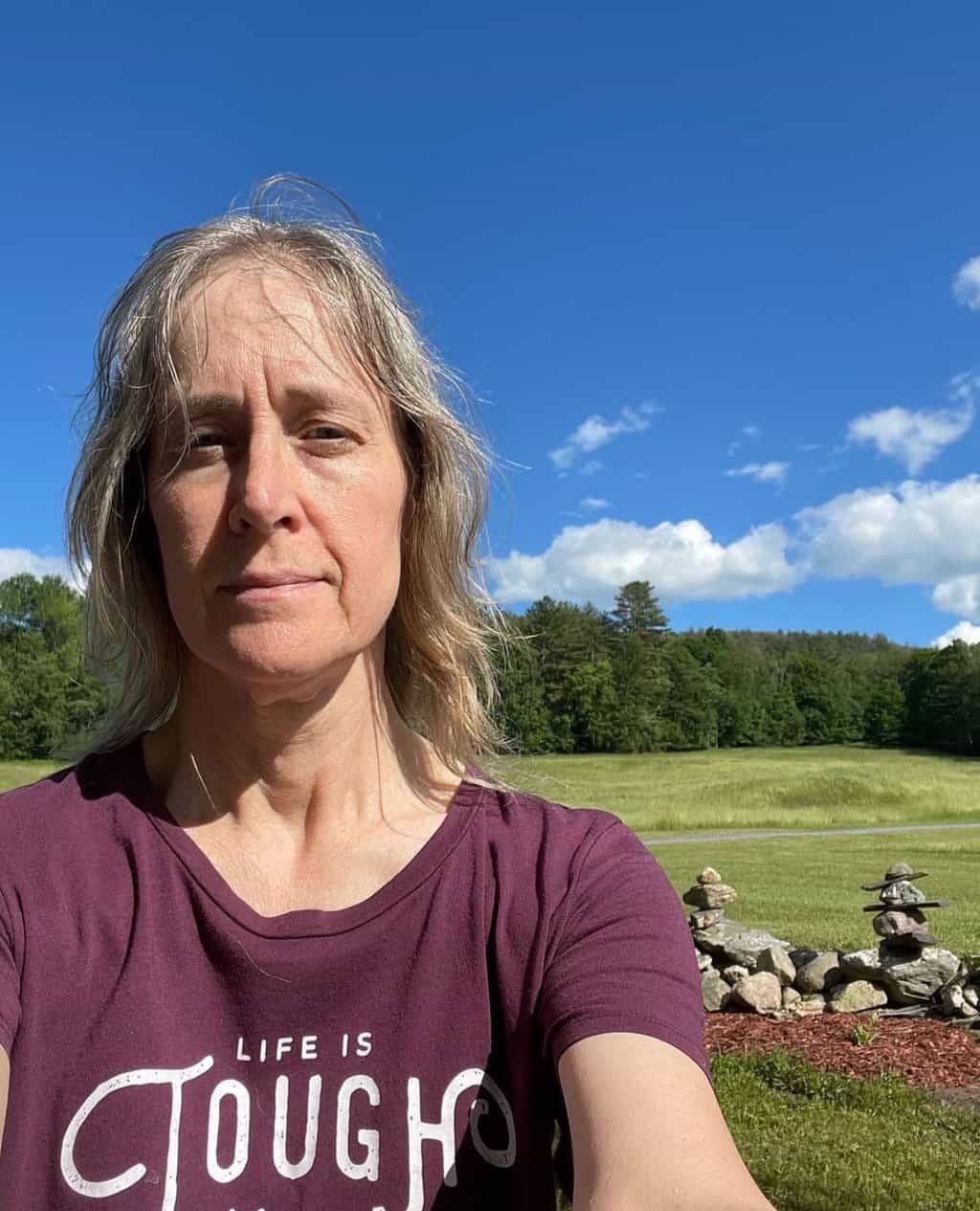 Ellen is a busy mom of a 24-year-old son and 29-year-old daughter. She owns six blogs and is addicted to social media. She believes that it doesn't have to be difficult to lead a healthy life. She shares simple healthy living tips to show busy women how to lead fulfilling lives. If you'd like to work together, email info@confessionsofanover-workedmom.com to chat.