Last Updated on July 7, 2023 by Ellen Christian
Learn more about continuous ECG monitoring and the benefits of wearing an ECG band. Find out why I'm including this health monitoring device in my workouts.
Posts may be sponsored. This post contains affiliate links, which means I will make a commission at no extra cost to you should you click through and make a purchase. As an Amazon Associate I earn from qualifying purchases.
Continuous ECG Monitoring
Over the past year, I've realized that my health is something I have been taking for granted. About a year ago, I lost 40 pounds by learning more about carb cycling and weight loss.
I started trying to spend less time on my computer and more time walking and working on my fitness level.
In the past, all I cared about was my weight. I didn't give a lot of thought to heart health or blood pressure monitoring.
I went to the doctor every few years and got a checkup. They told me I should lose a few pounds and be more active. I promised I would and then ignored it until my next appointment.
Two years ago, my mother had atrial fibrillation. She had a new valve put in her heart before almost dying. It was sort of a wake-up call when it came to my heart health choices.
What is atrial fibrillation?
Atrial fibrillation is a heart rhythm disorder that can lead to stroke, heart failure, and other complications.
It happens when the heart's normal rhythm is abnormal due to disorganized electrical signals.
How can continuous ECG monitors help?
Continuous monitoring is a way to track your heart rate and rhythm 24/7. It involves wearing an ECG band that records and sends your heart data to a secure app or website.
The ECG band measures the electrical signals of your heart and provides real-time information on your heart rate, rhythm, oxygen saturation levels, activity level, and other vital signs. It also stores this data so that you can monitor changes over time.
This information helps doctors make more informed decisions about your care. While some ECG monitors are used by doctors, the best ECG fitness band I've found for home use is the Frontier X2. Use code FFELLEN at checkout to save 15%.
What are abnormal heart rhythms?
Abnormal heart rhythms can be caused by a variety of factors, such as an overactive thyroid, high caffeine intake, and certain medications. The ECG band can record and display changes in your heart's rhythm and alert you and/or your doctor if these changes are detected.
By proactively monitoring my health with the ECG band, I'm able to make sure my heart health is always in check and can alert my doctor if something is off.
I'm now including this device as part of my workouts because it allows me to track my progress while also keeping an eye on my heart health. ECG monitoring has been a great addition to my routine.
What are the 3 types of continuous ECG monitoring?
The three types of monitors are Continuous ECG, Event, and Reveal.
Continuous ECG monitoring is the most commonly used type of ECG monitor and involves wearing a portable device for 24 to 48 hours to track your heart's activity.
Event monitoring or mobile cardiac telemetry (MCT) is a type of ECG monitor that allows you to record your heart's rhythm intermittently over weeks or months.
Reveal monitors are devices that can be worn for up to 3 years and provide continuous data on your heart rate and rhythm that can be sent directly to your doctor for analysis.
For the most part, event and reveal monitoring are devices provided by your healthcare provider to treat and manage serious heart problems. Continuous ECG monitors, like my Frontier X2, can be used by athletes and those interested in learning more about their ECG measurement and what it means.
These three types of ECG monitoring provide a comprehensive view of your heart health, allowing you to make informed decisions with your doctor about lifestyle changes and treatments.
Why continuous ECG monitoring is important?
Continuous monitoring is important because it provides a comprehensive view of your heart health and allows you to detect changes in your heart rate and rhythm over time. This information can be used by your doctor to diagnose, treat, and monitor certain medical conditions like atrial fibrillation, congestive heart failure, arrhythmias, and coronary artery disease.
Unlike fitness trackers that give you a very small window into what your heart is doing, a continuous ECG monitor like the Frontier X2, allows you to see in real-time what your heart is doing over a longer period of time. You can then download that data via the ECG app to analyze and share with your healthcare provider if you feel you need to.
What will a continuous ECG not detect?
Although ECG monitoring can detect changes in your heart rate and rhythm, it cannot detect other issues like abnormal blood pressure or cholesterol levels. A full physical exam by a doctor is still the best way to determine overall health.
It is not meant to diagnose or treat serious health conditions like atrial fibrillation. You must speak to your physician.
What about fitness products and ECG readings?
There are many fitness trackers with health features including the Apple Watch, Fitbit Sense, and Samsung Galaxy Watch.
While they have many fitness and health features, they don't offer a continuous monitor. These fitness trackers will give you information about your stress measurement and provide a limited ECG reading.
A continuous ECG monitor like the Frontier X2 provides ECG functionality you can review for an entire day or longer. This can help you identify abnormal rhythms and see a more in-depth ECG analysis you can use as a starting point for a discussion with your health provider.
While some ECG monitors are used by doctors, the best ECG fitness band I've found for home use is the Frontier X2. Use code FFELLEN at checkout to save 15%.
What is the Frontier X2?
The Frontier X2 is a 24-hour wearable ECG monitoring system that provides real-time heart rate, rhythm, and activity data to help you understand what your heart is doing at any given moment.
This device uses advanced algorithms to collect and analyze your ECG data like a medical-grade monitor. It also has an easy-to-read LED display and built-in sensors to track your activity.
The Frontier X2 can be worn while you sleep, work, or exercise and will store up to 24 hours of ECG data for later review.
The data can be sent directly to your doctor or healthcare providers so they can monitor your heart health more closely. The device also has a built-in alarm that will alert you if it detects an abnormal rhythm or heart rate.
The Frontier X2 is an ideal monitoring device for athletes, people interested in tracking their ECG data over long periods of time or anyone wanting to learn more about what their heart is doing. You can see all of the data along with your ECG measurement in the ECG app.
How does the Frontier X2 ECG monitor work?
The monitor attaches to a band that you wear around your chest. The ECG device is about palm-sized and the bands are adjustable.
It provides monitoring while you wear it and sends the ECG records to an app on my phone. Unlike a fitness watch, I can see this data in real time which makes it much more valuable. This means I can see things like irregular heart rhythms and discuss them with a doctor.
This is not intended to detect a serious medical condition. It is an ECG fitness tracker, not a medical device. It has ECG capabilities that are far more detailed than an ECG smartwatch. But, you need to discuss this data with your healthcare provider to identify atrial fibrillation or heart rhythm abnormalities that could lead to a heart attack.
Battery life
Up to 24 hours of continuous usage. 12 to 15 days under normal usage. Full charge in under 45 minutes.
It is water resistant up to 1.5meters.
Connectivity
Bluetooth 5.0
iOS and Android as well as the Apple Watch
Displays heart rate on BLE sport watches
Metrics
Heart rate, heart rhythm, heart strain, HRV
Breathing rate, training load, body shock, step cadence

Frontier X2 review
I've used a variety of ECG devices and monitors for short periods of time. The Frontier X2 outshines them all including my Apple watch.
The monitor is very comfortable to wear and easy to adjust. It can adjust to almost any body type depending on size and shape. I received 2 bands, one black, and one blue.
The ECG monitor snaps onto the fitness band easily. Then, you adjust the band so it sits directly below your heart in the center of your chest, right below your bra strap.
It's compact and comfortable and could be easily worn under regular street clothes if you want to wear it 24/7 to monitor your heart rhythm. The ECG sensors sit against your skin. It takes only a few seconds to put on.
I love watching the heart rhythm data in the app as I exercise. The ECG reading gave me much more information about my heart function and strain. Plus, you can get an email with your download information.
I have an appointment with my medical provider to discuss whether or not I have POTS which is Postural Orthostatic Tachycardia Syndrome. When I stand up for long periods of time, my heart beat rises drastically.
It's happened for several years but I thought it was because I was out of shape. Now that I'm in shape, I've realized that something else is going on.
The ECG functionality of the Frontier X2 will allow me to export the data to share with my medical provider and the cardiologist. This data along with an ECG test at the doctor's office will give them the information they need to make that determination.
The best ECG fitness band I've found for home use is the Frontier X2. Use code FFELLEN at checkout to save 15%.
Final thoughts
Remember, at-home continuous ECG monitoring devices are not intended to detect heart diseases, heart attacks or high blood pressure. They are not medical devices.
However, an ECG sensor can give you information about irregular heartbeats by using their built-in ECG sensor. You can then discuss the information from the ECG app with your doctor in a medical setting.
If you want a fitness tracker with ECG functionality, I highly recommend you try the Frontier X2. It is far better than the data you get alone from the Apple health smartwatch app.
Related Reading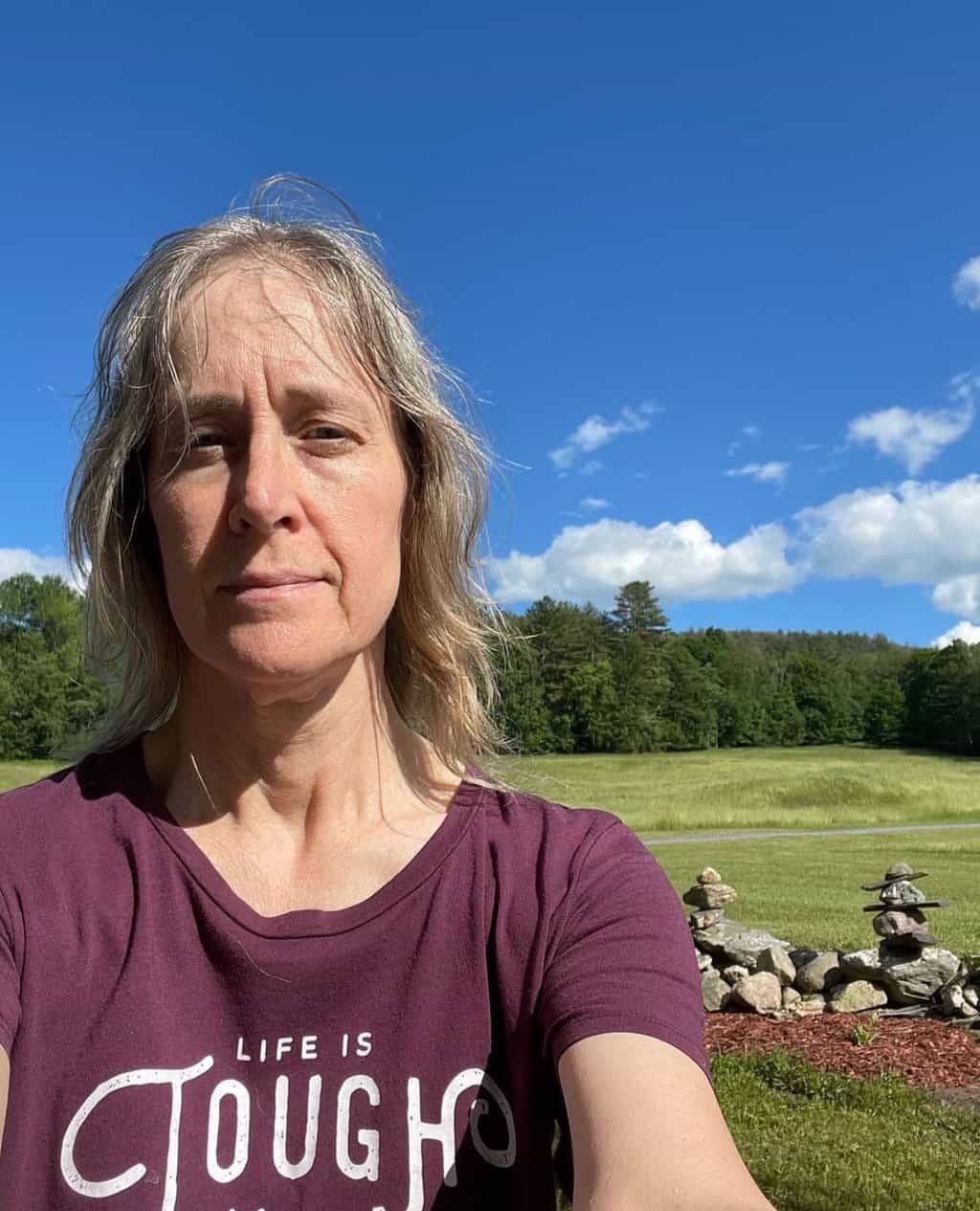 Ellen is a busy mom of a 24-year-old son and 29-year-old daughter. She owns six blogs and is addicted to social media. She believes that it doesn't have to be difficult to lead a healthy life. She shares simple healthy living tips to show busy women how to lead fulfilling lives. If you'd like to work together, email info@confessionsofanover-workedmom.com to chat.