Last Updated on September 23, 2023 by Ellen Christian
If you're curious about jewelweed uses, check out this jewelweed spray and find out more about foraging for jewelweed.
Posts may be sponsored. This post contains affiliate links, which means I will make a commission at no extra cost to you should you click through and make a purchase. As an Amazon Associate I earn from qualifying purchases.
Jewelweed Uses
Years ago, I realized that one of the best ways to use fresh jewelweed was as a poison ivy treatment. Orange jewelweed grows all around my yard and can be found in many overgrown spots.
Jewelweed, with its bright orange flowers, is a natural remedy that grows in abundance. Its healing properties have been known for generations. When you spot those unique, orange blooms in your garden or during a walk, remember that this plant is not just a weed. It's a natural ally against the discomfort caused by poison ivy.
Today I am sharing one of my favorite jewelweed recipes. This jewelweed spray is effective in treating poison ivy. It's good stuff you will want to keep on hand. I will also be sharing a jewelweed salve recipe in the coming weeks.
There's so much you can do while foraging. I highly recommend this book.
Common names for jewelweed
Jewel weed is also commonly known as "Spotted Touch-Me-Not". This unusual name originates from the plant's unique trait of releasing its seeds explosively when its mature seed pods are touched.
Its official name is impatiens capensis in the family Balsaminaceae. Jewelweed is an annual plant that grows in abundance in moist woodlands and shady areas.
Does fresh jewelweed help poison ivy?
Yes, fresh jewelweed can offer relief from the discomfort caused by poison ivy. It contains a compound known as lawsone which helps reduce inflammation and ease the itchiness associated with poison ivy. It provides a soothing effect when applied to the affected skin area.
To use jewelweed for poison ivy, simply crush the stems and leaves of the plant to extract its juice. Apply this directly on the skin where the poison ivy rash has appeared. It's a natural and simple remedy that many people have found effective. It is, however, important to do a skin patch test first, to ensure no allergic reaction to jewelweed itself.
Try this jewelweed spray for an easy homemade remedy.
What does jewelweed look like?
Jewelweed is a distinctive plant with its own charming characteristics. The plant is usually 3 to 5 feet tall with thin, translucent stems that give it a somewhat delicate and elegant appearance.
The leaves are oblong in shape, with a slightly jagged edge, and they have a unique, shiny or "jeweled" look when wet, hence the name. The leaves are light green in color, providing a pleasant contrast to its bright orange or yellow flowers.
Speaking of the flowers, they are one of the most identifiable features of the plant. They are trumpet-shaped, hanging like little bells from the plant's thin branches. Typically, the flowers are bright orange, with a rich, spotted pattern on the inside.
However, there can also be a variation of the jewel weed called the Yellow Jewelweed or Pale Jewelweed, which features yellow flowers instead of orange. These unique characteristics make jewel weed easily recognizable in a garden or in the wild.
Where can I find jewelweed growing?
Jewelweed thrives in moist, shady environments and is often found growing near creeks, rivers, or damp forested areas. In North America, it's commonly found in the eastern parts of the continent, from northern parts of Canada down to the southern United States.
These plants are usually found in clusters, so if you find one jewelweed, you are likely to find more nearby. You can also find them in marshy areas or near ditches or ponds.
Foraging for jewelweed
When foraging for spotted jewelweed, remember that it's an annual plant that flowers and seeds from late spring to early fall. The best time to spot it is during this period when the bright, distinctive flowers are in bloom.
However, it's also important to remember to forage responsibly and respect the plant's natural environment. Always ensure you are not damaging the plant's habitat and only take what you need.
There's so much you can do while foraging. I highly recommend this book.
Tips for identifying jewelweed
Jewelweed is a tall plant, reaching up to 5 feet, with thin, almost see-through stems. Its leaves are long and have a bit of a rough edge. When they are wet, they shine like jewels, which is why the plant is called jewelweed.
The jewelweed flowers are the real standout feature. They hang from the plant like little orange or yellow bells and have a pattern of spots inside them. The yellow-flowered version is known as Yellow Jewelweed or Pale Jewelweed. This is a plant that's easy to spot because of its unique features.
No products found.
What did Native Americans use jewelweed for?
Native Americans were among the first to discover the myriad uses of this medicinal plant, employing it for a variety of medicinal and practical purposes. For instance, they applied the juice from crushed jewelweed stems and leaves to skin irritations and rashes.
This natural remedy was particularly effective for soothing itchiness caused by poison ivy or stinging nettle. Additionally, jewelweed was used to treat conditions like athlete's foot and ringworm, owing to its antifungal properties.
Apart from its medicinal uses, Native Americans also utilized jewelweed for its vibrant dye. The bright orange and yellow blooms could be harvested and processed to create a rich, colorful dye.
This was often used in the making of traditional garments, blankets, and art pieces, adding an element of beauty and symbolism to their creations. Therefore, jewelweed was not only a healing plant in Native American cultures but also a tool for self-expression and creativity.
What is the best way to use jewelweed?
The most efficient and convenient way to use jewelweed or spotted touch me not is in the form of a spray. Jewelweed spray is an easy-to-use remedy that harnesses the plant's naturally soothing properties.
It's perfect for quick application and instant relief from discomfort caused by poison oak or similar skin irritants. To use, just spritz the affected area with the jewelweed spray and let it do its magic.
Always remember to do a patch test before widespread application, ensuring you have no allergic reactions to it. So, if you're looking for a natural, effective, and user-friendly solution for poison ivy, I highly recommend trying jewelweed spray!
What part of jewelweed should be used for treatment?
For treatment, it is the sap from the stem and leaves of the jewelweed that is utilized. Simply put, you crush these parts of the plant to release the precious sap. This sap, when directly applied to the skin, works wonders in alleviating discomfort caused by skin irritations and rashes. It's a straightforward, natural remedy, right from nature's own pharmacy.
Is jewelweed safe to eat?
Jewelweed is not recommended to eat. it has high levels of oxalic acid. Some people do use the flower buds as edible flowers in salads. However, avoid the stems and leaves.
In the past, people boiled the stems and leaves to remove the oxalic acid and ate them much the same way they would spinach or dandelion greens. It is not recommended today.
Tips for foraging for jewelweed
Season Timing: Jewelweed typically flourishes in late spring to early fall. It's best to forage during this period.
Locate Damp Spots: Jewelweed grows in moist areas. Look near streams, rivers, or damp woods.
Identify Correctly: Learn to identify the distinctive features of jewelweed – bright orange or yellow flowers, oblong leaves, and thin, translucent stems.
Handle with Care: Jewelweed is a delicate plant. Handle it gently to avoid damaging the plant or its habitat.
Use Fresh: For medicinal use, always use fresh jewelweed. The fresher it is, the more potent its healing properties.
Forage Responsibly: Only take what you need and leave the rest for wildlife and other foragers.
Inspect Thoroughly: Check the plant well before use. Avoid parts that appear brown, wilted, or diseased.
Wash Before Use: Always wash the plant thoroughly to remove any dirt or potential contaminants.
Avoid Eating: Despite historical use, it's best to avoid eating jewelweed due to high levels of oxalic acid.
Preserve Ethically: If you're making a jewelweed spray or salve, ensure you use ethical and safe preservation methods.
Can you dry jewelweed?
Yes, you can dry jewelweed, but it's important to note that it may not be as effective when used for the treatment of itchy rashes. The jewelweed's sap, which is crucial for alleviating the discomfort of poison ivy rashes, is most potent in fresh plants.
Fresh chopped jewelweed stems
When it comes to chopping jewelweed, delicacy and precision are key. So, here are some tips to help you handle this task:
Use Sharp Tools: Ensure you're using sharp scissors or a knife. This not only makes the task easier, but it also prevents damaging the plant.
Cut at the Base: Start by cutting the jewelweed at the base of the stem. This allows you to easily handle the plant without crushing the leaves and flowers.
Hydrate the Plant: If the plant seems dry, it's a good idea to hydrate it before chopping. This makes the plant more pliable, reducing the risk of damage.
Chop in Small Sections: Instead of trying to chop the entire stem at once, do it in small sections. This helps maintain control and minimize wastage.
Avoid Crushing: Be careful not to crush the stem while chopping. This could lead to the loss of the precious sap.
No products found.
What does jewelweed help with?
It helps with many skin conditions! However, it also helps with fungul infections.
Poison Ivy Rash: The itching and discomfort of poison ivy exposure are effectively soothed by jewelweed. It is also used to help poison oak or other itchy spots.
Insect Bites: The plant is often used to lessen the itch and swelling brought on by mosquito bites and other bug bites.
Nettle Stings: The sap of jewelweed can help neutralize the sting and irritation caused by nettles.
Minor Burns: Used as a first-aid treatment, jewelweed can provide relief from minor burns.
Ringworm: You can use the antifungal properties of the plant to combat the ringworm fungus.
Jewelweed Spray
Ingredients:
¼ cup fresh jewelweed stems, leaves
8 ounces witch hazel
¼ cup chamomile
¼ cup calendula
Peppermint essential oil (optional)
The shelf life is only a few weeks so make a new batch. Keep it in the refrigerator and out of direct sunlight.
How to make jewelweed spray
It's very easy to make this jewelweed treatment.
Put each of the herbs and flowers inside a glass jar. Pour the witch hazel on top until it completely covers everything.
Let it sit for a few weeks, making sure to shake it every day. Then strain using a fine mesh sieve..
Pour infused witch hazel into a spray bottle. Add in peppermint essential oil and stir. Then enjoy!
Notes:
So, you can make a jewelweed spray with just the plant. The other ingredients (chamomile and calendula) make a great addition to help with itching and skin issues.
Fresh jewelweed is great for itchy skin, eczema, poison ivy, etc. I like to leave a cluster of it growing in my yard.
You can use a cotton ball to apply the juice directly to rashes for immediate relief. Gently rub over the affected area.
5 tips for preventing poison ivy
Finally, if you want to avoid poison ivy, follow these tips.
Identify the Plant: Learn to distinguish poison ivy from other plants. It usually has clusters of three leaves and may have white berries.
Wear Protection: When venturing into areas where it grows, wear long pants, long sleeves, boots, and gloves to keep your skin covered.
Avoid Touching: If you see a plant that resembles it, avoid touching it. Even dead plants can cause rash.
Clean Your Gear: If you've been in an area where it grows, wash your clothes, shoes and any gear you took with you.
Wash Your Skin: If you come into contact with poison ivy, wash your skin with soap and cold water immediately to remove the plant's oil.
Related Reading
Wild foraging and preparedness
Yield: 1 bottle
Jewelweed Spray
If you're curious about jewelweed uses, check out this jewelweed spray and find out more about foraging for jewelweed.
Materials
¼ cup fresh jewelweed stems, leaves
8 ounces witch hazel
¼ cup chamomile
¼ cup calendula
Peppermint essential oil (optional)
Instructions
Put each of the herbs and flowers inside a glass jar. Pour the witch hazel on top until it completely covers everything.
Let it sit for a few weeks, making sure to shake it every day. Then strain using a fine mesh sieve..
Pour infused witch hazel into a spray bottle. Add in peppermint essential oil and stir. Then enjoy!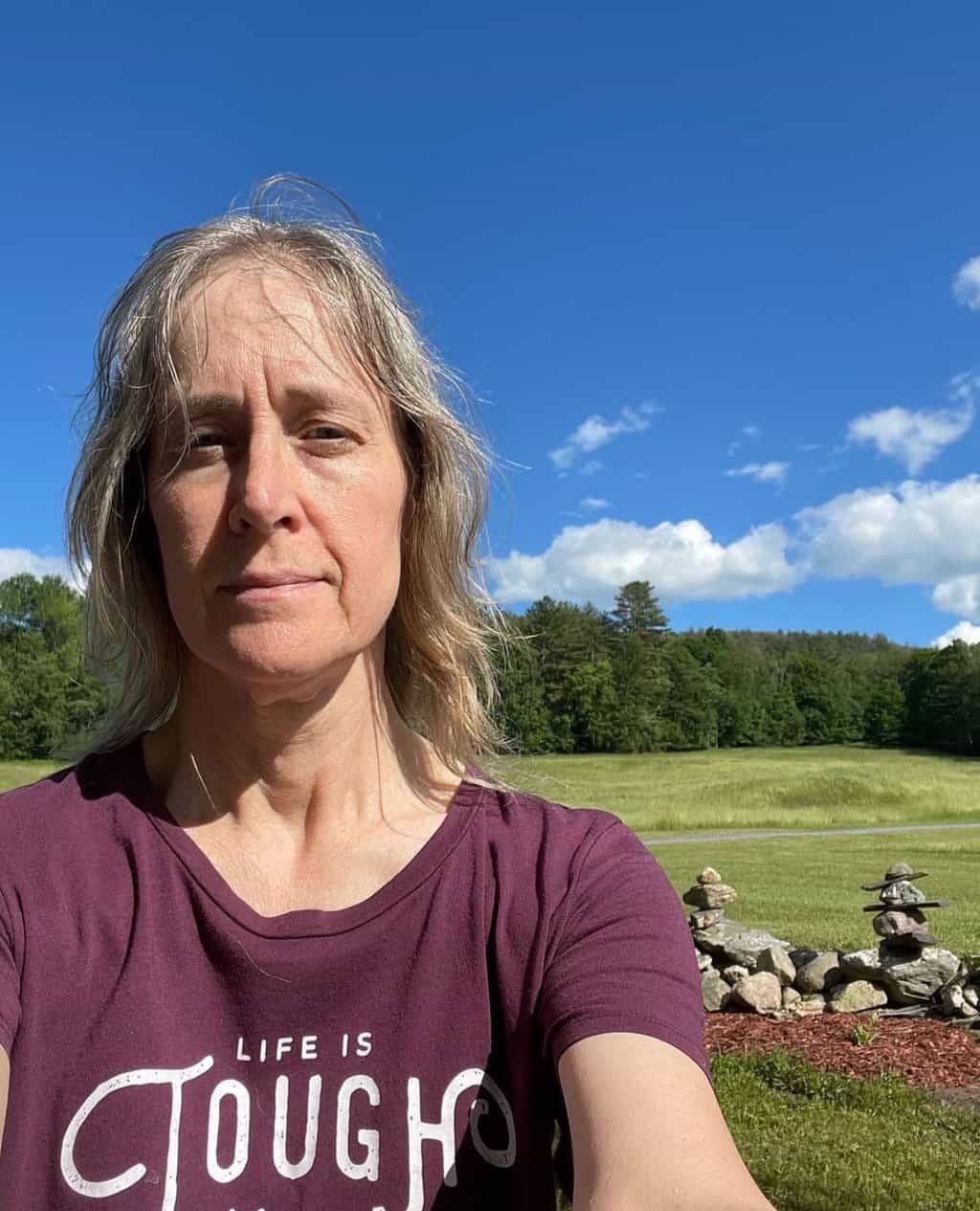 Ellen is a busy mom of a 24-year-old son and 29-year-old daughter. She owns six blogs and is addicted to social media. She believes that it doesn't have to be difficult to lead a healthy life. She shares simple healthy living tips to show busy women how to lead fulfilling lives. If you'd like to work together, email info@confessionsofanover-workedmom.com to chat.